The Heart's Invisible Furies by John Boyne
Published – August 11th 2017
When I received this book as part of my BOTM package, I was intimidated by the size of it. It is a huge book which had almost 600 pages. Now, I had two issues which I had to tackle (more like third world problems) – 1) How do I carry this huge book when I go out? (I usually always have the book I am reading with me), 2) What if this book is not what I expected and turns out to be a bore?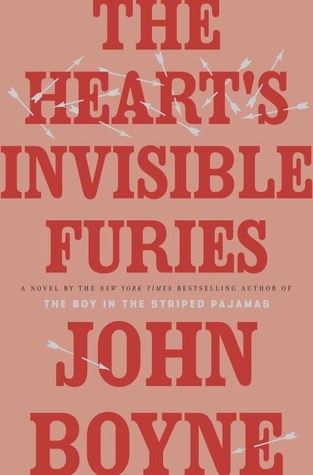 But I wasn't disappointed at all and I am glad I picked it up sooner than later. I enjoyed reading this book a lot. More than I thought I would.
Now, there are two factors which influence how much I enjoy reading a book – 1) Strong characters I can respect or connect to and 2) Subject/theme of the book I can relate to. Now the characters itself do not have to be perfect but they definitely need to be consistent. If they are flawed, then that should be consistent as well.
This book had some themes which I could not relate to at all. But I still enjoyed this book, it was very well written. I am going to be stalking John Boyne after reading this book as I am hooked to his writing style now. The Boy in the Striped Pajamas was my absolute favorite and I had high expectations for this book from the beginning and I wasn't disappointed at all.
The book highlights the changes in society and the perceptions in Ireland from 1940 onward. In many ways, the main characters of this book challenge the existing norms and the book depicts their suffering in a very real and heart warming way. There is also some element of anticipation which builds up through the novel. As a reader, you are waiting to see how other characters would react when exposed to a certain truth of their life (trying really hard not to reveal any spoilers).
I felt like I was introduced to a world which I knew nothing/very little. A lot of political aspects were touched in the book. It talks about how hypocrites can cause suffering to hundreds and thousands of people. Overall, it has all the qualities that I look for in a historical fiction book and I would highly recommend everyone to read this book. There is so much to learn from the characters, their journeys, the context and the world that the book is set in.
Rating – ♥♥♥♥♥ / 5
Follow me on social media: